Our rates are "all inclusive". They differ according to the residence chosen and the duration of the stay. They are revised at the beginning of each academic year.
Academic stays cover the academic year. Their duration is from 4 months (1 semester) to 12 months.
Non-academic stays are stays of 2 days to 3 months, outside the normal academic year.
Academic stays - Maison Saint Bernard
| | Academic year 2022-2023 | Academic year 2023-2024 |
| --- | --- | --- |
| Registration fees | 115 € | 125 € |
| Security deposit | 600 € | 600 € |
| Long stay (7 months or more) in a standard room | 500 € / month | 530 € / month |
| Short stay (3 to 7 months stay) in a standard room | 540 € /month | 572 € / month |
Academic stays - Maison Saint Laurent
| | Academic year 2022-2023 | Academic year 2023-2024 |
| --- | --- | --- |
| Registration fees | 115 € | 125 € |
| Security deposit | 600 € | 600 € |
| Long stay (7 months or more) in a standard room | 432 € / month | 458 € / month |
| Short stay (3 to 7 months stay) in a standard room | 447 € /month | 475 € / month |
Non-academic stays (less than 3 months) - Year 2022-2023
| | Maison Saint Laurent | Maison Saint Bernard |
| --- | --- | --- |
| Registration fees | free fees | free fees |
| Security deposit | 400 € | 400 € |
| Standard room or apartment-sharing | 460 € /month | 560 € / month |
| Studio (for family, teacher or accompanying person) | - | 90 € per night, 2 nights minimum - Possibility of weekly rate |
The +
Length of stay adapted to the duration of your studies (no fee to pay in summer if you are not there !). Possibility to book for one semester only.
Possibility to benefit from the ALS (help from the Caisse d'Allocations Familiales)
All charges included: hot water, cold water, heating, electricity, maintenance included in the fee.
Free Wifi
No guarantor required
Book your room now
Application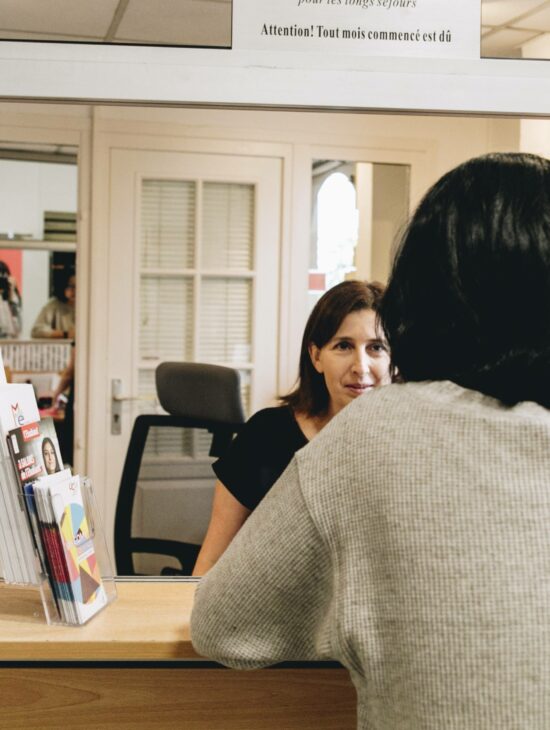 Application for booking your private room